Attachment:
Color turn_all_300.jpg [ 20.59 KiB | Viewed 13441 times ]
Team Group Inc launches the brand new Color Turn USB disk as the best mobile storage solution. Integrating the novel turning body, confident colors, full performance, and high capacity, Team turns technology products into joy for users to change their mind as ideas go with great ease and confidence.
The Color Turn adopts the cap-in-body design. With just a slight push, you can use it in whatever way that pleases you, and you will never have to worry about losing the cap. The Color Turn comes in 3 colors: earth green, elegant purple, and prudent brown, refreshing and uncommon, showing the LOHAS attitude. Also, the Color Turn comes in a full capacity range from 2GB ~ 32GB. Based on personal needs, consumers can choose any model to store and read any documents, media files, digital photos, and MP3 files. With the high-speed-transfer USB2.0 interface, consumers can store and organize any file and precious moment in life in an instant.
Team Group Inc. is a leading manufacturer of memory storage products, and provides the ultimate solution to satisfy consumer need for storing and sharing media and data. Team Group offers a lifetime warranty and repair/replacement service on all memory cards. For more product information, please visit the Team Group website at
http://www.teamgroup.com.tw
.
※Team Color Turn Specification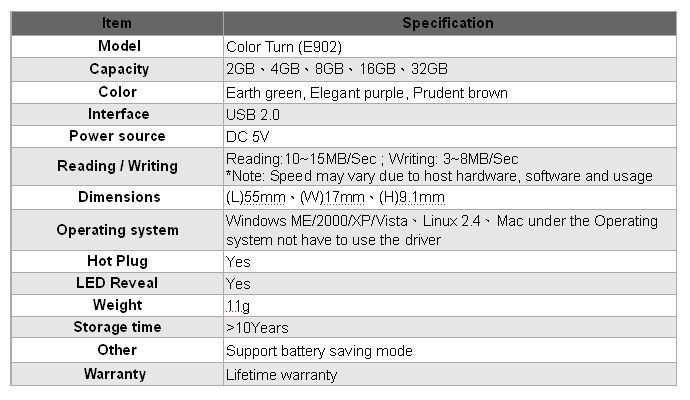 【About Team Group】
Team Group Inc. is a manufacturer of computer products and consumer electronics, established in Taipei, Taiwan in 1994. We manufacture and distribute high quality Memory modules, Memory cards, USB dick, and SSD. Team Group is recognized as one of the leading memory products and consumer electronic manufacturers in the industry. We cover most business regions in the world. Team provides the highest quality products to customers in volume with competitive prices and the best possible after services. Through many years of the close and direct relationships with the leading manufacturers and OEMs, we are able to provide various products even during the shortage and allocation periods. As we continue to grow, we are committed to supporting our customers with superior products, first class service and excellent business growth.
Press Contact (1):
Bernie Gee
Marketing Department (Team Group)
Tel:+886-2-8226-5000 Ext.223
E-mail:
bernie.gee@teamgroup.com.tw
Press Contact (2):
Gini Chang
Marketing Department (Team Group)
Tel:+886-2-8226-5000 Ext.260
E-mail:
gini.change@teamgroup.com.tw